Fundamental outlook
In this edition of the JRC Capital Management Weekly Outlook we give our rating on the USDCAD.
The strength of the dollar in recent months was clear this year, and raw material prices have also recently increased. Among other things, the price of a barrel of WTI has increased by over 18% since the beginning of the year. So there was a stronger downward trend in the USDCAD. Since the beginning of the year, the price has dropped over 600 pips. In the last few days there has been renewed downward pressure as the Fed was very cautious at its last press conference. A rate hike was not expected, but the subsequent statement was seen as too "dovish". The job report published on Friday led to rather negative reactions. Although more jobs were created than expected, the unemployment rate rose due to an increased participation rate.
In the coming trading week, data from the United States will primarily be on the agenda. Starting on Monday with the index of consumer spending and new orders for durable goods. The US trade balance and ISM index of non-manufacturing industries will be released on Tuesday. The figures for the Canadian real estate sector will be published on Wednesday and the crude oil inventories from the USA. At the end of the week, the Canadian labor market data is due. The discussions about the trade war and the US budget are also likely to cause tension in the markets.
Technical analysis
| Trend indication | | Resistance / support | |
| --- | --- | --- | --- |
| Short term (daily) | bearish | Resistance 1 | 1,3400 |
| Medium term (weekly) | bullish | Resistance 2 | 1,3665 |
| Long term (monthly) | bullish | Support 1 | 1,3066 |
| | | Support 2 | 1,2782 |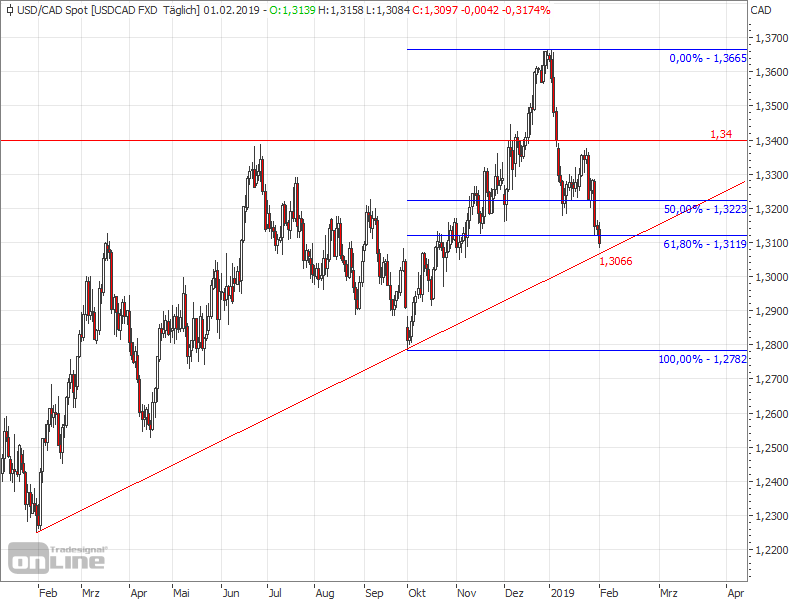 The USDCAD has been in a downtrend since the beginning of the year. Overall, however, a clear upward trend can be seen for a year. The course is currently at a critical level. The 61.80% Fibonacci retracement was broken on an intra-day basis and the price is now just above the long-term trend line, which runs at 1.3066. Should the price fall below this level, further downward pressure could arise. Should the price fall below 1.2782, the low of the previous correction, the long-term uptrend would be broken from a technical perspective.
If USDCAD bounces off this support area and moves up again, an important area of resistance is at 1.3400. The price has rebounded a few times in the past at this level. In the long term, it is important to rise above 1.3665 to confirm the upward trend.