Fundamental outlook
This week in the JRC Capital Management Weekly Outlook: the EURGBP currency pair.
Another defeat for Theresa May in the House of Representatives and time is running out. Next week in Brussels, Theresa May would like to continue to insist on her Brexit deal and enforce it in her parliament. The time has come on March 29th. Great Britain is supposed to leave the EU on this day – with or without a Brexit agreement. The uncertainty was also evident in the EURGBP currency pair. After the pound sterling recently gained in value after the ECB lowered its economic forecast. However, the latest Brexit reports caused a recovery in the EURGBP.
Markets in the United States will be closed next Monday for President's Day, also known as George Washington's birthday. This means lower liquidity, which in turn can lead to abrupt price movements. There is a little bit of important economic data coming up over the course of the week. The ZEW survey on the economy for the euro zone and Germany will appear on Tuesday. The consumer price for the euro zone will be published on Friday. An important indicator for the monetary policy of the European Central Bank.
Technical analysis
| Trend indication | | Resistance / support | |
| --- | --- | --- | --- |
| Short term (daily) | bullish | Resistance 1 | 0,8850 |
| Medium term (weekly) | neutral | Resistance 2 | 0,8950 |
| Long term (monthly) | neutral | Support 1 | 0,8700 |
| | | Support 2 | 0,8618 |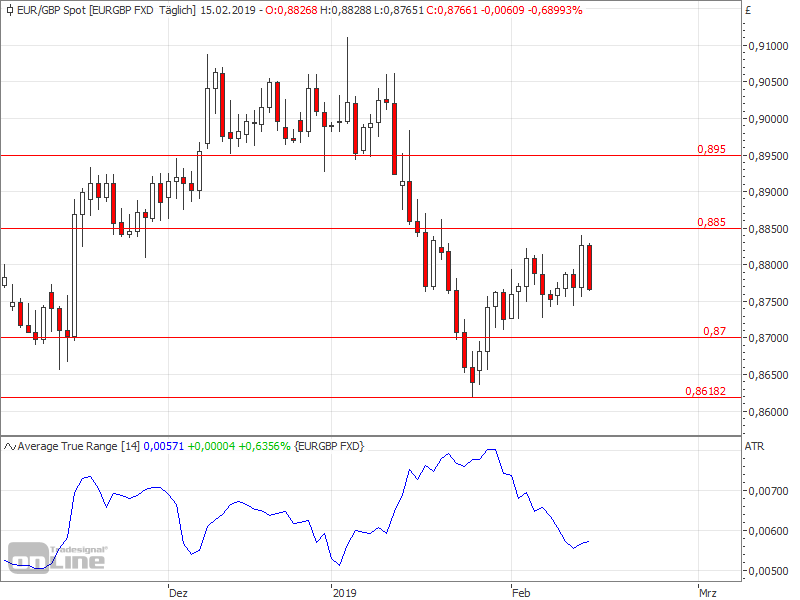 While the euro was still weak at the beginning of the year, it is currently in a recovery phase. The ATR indicator clearly shows how volatility has also decreased in recent weeks. This could be an indication that the cops are running out of strength. In general, the EURGBP is a currency pair with low volatility, but an average candle size below 60 pips is comparatively small. Due to the tense political situation, the EURGBP has been moving sideways for some time. The price has been in a range between 0.8600 and 0.9100 since September 2017. The price for one euro is currently at 0.8765 British pounds.
On the lower side there are important support areas at 0.8700, in this area the price turned several times in the past, and at 0.8618 the low of the year.
If EURGBP continues its recovery, initial resistance is at 0.8850. Several highs and lows accumulate in this area. Another resistance can be located at 0.8950.