Fundamental outlook
JRC Capital Management Consultancy & Research GmbH wishes you a happy and successful new year. At the start of the new year, let's look at the USDJPY currency pair.
If the liquidity in the market is particularly low, there can always be abrupt movements. Most recently through computer-generated trading signals. In the night from Wednesday to Thursday there was a so-called flash crash in some currency pairs. So also in the USDJPY, which fell by 400 pips within a few minutes. The course was then able to recover and is now moving towards its previous level. The better-than-expected non-farm payrolls, which underline the strong US economy and confirm the Fed's monetary policy, also contributed to this. In December the Fed raised interest rates by a further 25 basis points to 2.25% – 2.50%. Two to three rate hikes are expected this year.
The second calendar week comes with some important business dates, mostly from the US. The trade balance and ISM non-manufacturing index will appear on Monday. The minutes of the last FOMC meeting will be published on Wednesday and the consumer price index will be published on Friday, which is now the focus of the US Federal Reserve.
Technical analysis
| Trend indication | | Resistance / support | |
| --- | --- | --- | --- |
| Short term (daily) | bearish | Resistance 1 | 110,00 |
| Medium term (weekly) | bearish | Resistance 2 | 111,50 |
| Long term (monthly) | neutral | Support 1 | 107,50 |
| | | Support 2 | 104,50 |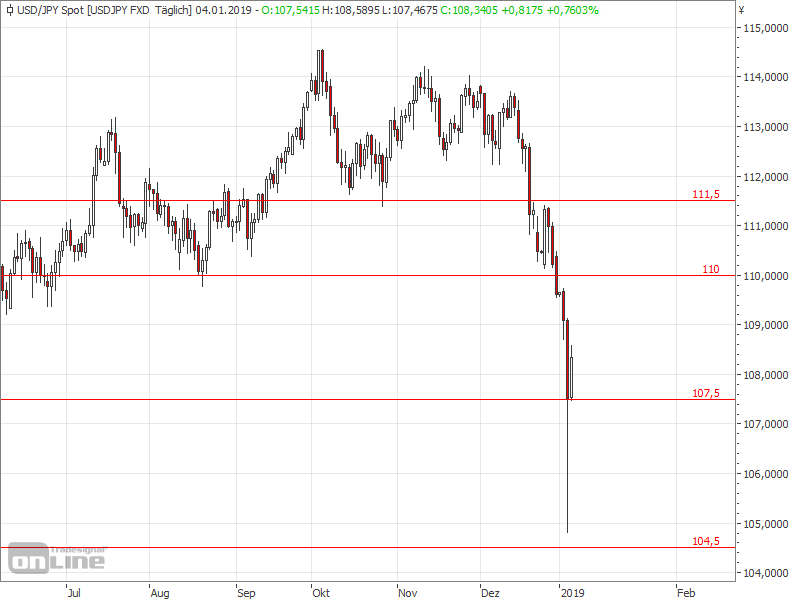 In the last few days of last year, the USDJPY fell below the important level of 110 Japanese yen per US dollar. The flash crash caused a loss of over 400 pips at its peak, making it the lowest USDJPY price in nine months. The price then recovered and is now at 108.34.
If the price continues to rise, the already mentioned 110 mark should provide resistance. Another resistance for the greenback is at 111.50.
On the lower side are the important areas at 107.50 and 104.50. The latter area in particular is an important area of support. Quotes below this would be the lowest since 2016 and would continue to put pressure on the US dollar.