JRC Capital Management
Consultancy & Research GmbH
Als technologieorientierter und innovativer Finanzdienstleister setzt JRC Capital auf kontinuierliche wissenschaftliche Forschung
Bereits beginnend im Jahre 1996 bekleidete JRC im Rahmen des von der Europäischen Union (EU) co-finanzierten Forschungsprojektes ACE (Analyst's Control Environment) die Leitungsfunktion eines Konsortiums aus renommierten europäischen Unternehmen und Forschungseinrichtungen, bestehend u. a. aus einem Berliner Bankinstitut, Atos SE, der University of Surrey und der Erasmus Universität Rotterdam. Darüber hinaus war die JRC verantwortlich für die Entwicklung von Prognosemodellen auf Basis kombinierter Methoden aus den Bereichen Textanalyse und Statistik. Seitdem war JRC in eine Reihe weiterer öffentlich geförderter Projekte involviert. Entweder als externer Berater wie im Falle des Anima-Projektes (1999), in dem JRC für den Entwurf und die Entwicklung einer Finanzanwendung mit Hilfe mobiler Agenten verantwortlich war. Oder als Projektmanager und technischer Leiter wie beispielsweise im EU geförderten Projekt GIDA (Generic Information based Decision Assistant) zur Entwicklung einer Internet-Plattform für informationsbasierte Entscheidungsunterstützung. Das Konsortium für diesen Online-Beratungsdienst bestand u. a. aus AMS Finsoft S.A., Ibermática, S.A. und der University of Surrey.
In den Jahren 2006-2008 agierte JRC als Projektkoordinator des von der Investitionsbank Berlin getragenen Projekts TREMA (Trend Mining, Analyse und Fusion Multimodaler Daten). Der Fokus von TREMA lag ebenfalls auf der Korrelationsanalyse von numerischen Daten und Text-Zeitreihen zur Verbesserung von Trendprognosen. Hierbei arbeitete JRC u. a. mit der Freien Universität Berlin zusammen. Einen Beitrag zum im Jahre 2008-2010 aufgelegten EU-Projekt GEMOM (Genetic Message Oriented Secure Middleware) leistete JRC bei der Entwicklung einer Finanzanwendung zur Übermittlung von Handelssystem-Signalen.
Ein weiteres von der EU gefördertes Projekt steht seit 2011 auf der Agenda von JRC. Im Rahmen des Projektes ENSURE (Enabling kNowledge Sustainability, Usability and Recovery for Economic value) kooperiert das Unternehmen mit weiteren namhaften Forschungseinrichtungen zur Erstellung einer Fallstudie über die Langzeitarchivierung von Finanzmarktdaten.
Zuletzt war JRC Capital Partner im Ende 2015 abgeschlossenen Eurostars-Forschungsprojekt "SAFE" – "Social Analytics for Financial Engineering". In diesem Projekt ging es um die Erforschung von Analysemethoden auf Einträgen in sozialen Netzwerken wie z.B. Facebook oder Twitter und deren Einsatz zur Entscheidungsunterstützung im Rahmen algorithmischer Handelsstrategien.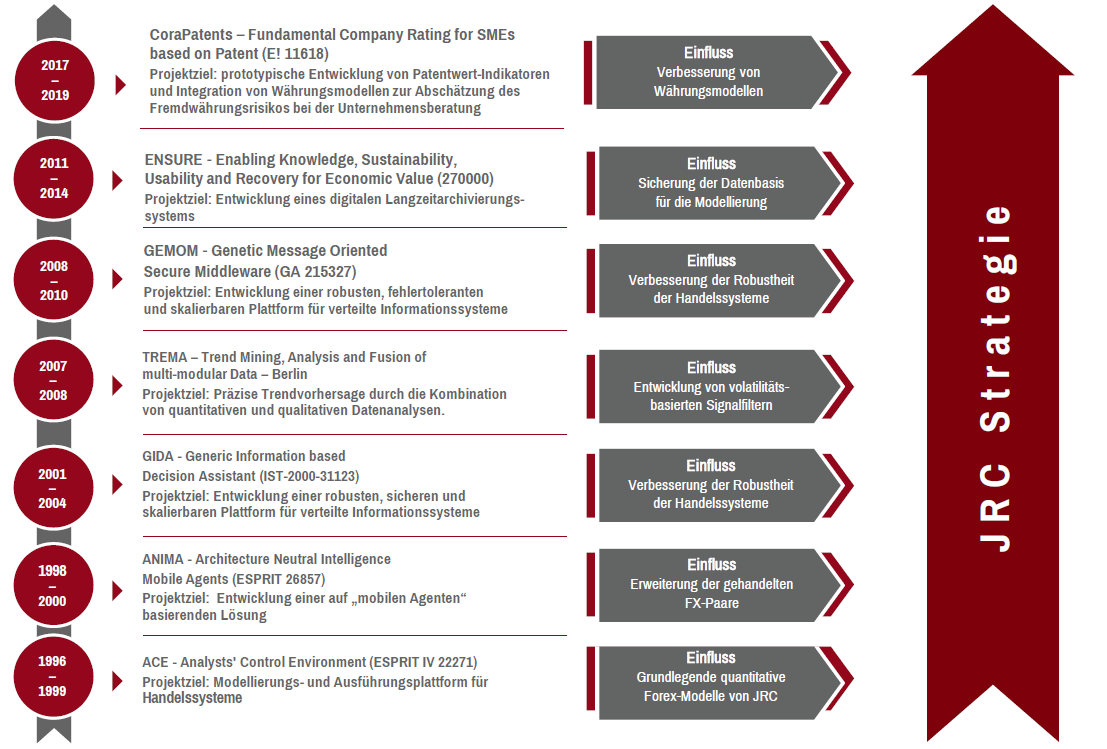 Vermögensverwaltung in Berlin:
Lassen Sie sich jetzt kostenfrei beraten!
Gern informieren wir Sie persönlich über die Kosten und Möglichkeiten Ihres Managed Accounts bei JRC Capital im Rahmen Ihrer Wealth-Management-Strategie. Interessieren Sie sich für unseren Corporate Account? Oder haben Sie weiterführende Fragen zu unseren Leistungen? Kontaktieren Sie uns telefonisch oder per E-Mail. Wir freuen uns auf Ihre Kontaktaufnahme.